IDD Suite – SCADA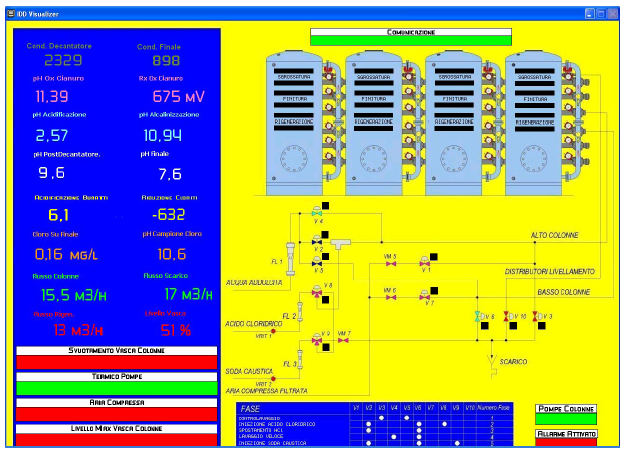 In water treatment systems, in particular, it is usually necessary to log regularly system variables. Using the available technologies such as standard instruments or PLC, data logging must be done manually or in some cases it is possible to create personal applications to connect PLC's with the central logging system.
These programs are very expensive and take a long time to develop, for these reasons companies tend to manually collect data.
From the semplicity point of view, traditional solutions show many weakness points.
The traditional instruments solution force the System Operator to supervise on site the operation and system variables obliging him to work in a dispersive way.
The solution with traditional PLC's show similar problems aggravated by the user interface which in this devices, to reduce costs, is often not user friendly and possibly makes serious problems.
Idropan has developed a combined Hardware and Software system to avoid this kind of problems.
The system uses a standard PC which, with a Serial link, "talks" with Hardware modules dislocated in remote areas next to the controlled machines.
This modules, depending on their configuration, can carry out one or more of these functions:
Data logging and saving (Data logger)
Remote control by PC commands.
Dislocated control (PLC like) but with integrated interface with the supervisor PC.
Alarms management
System Log management
These hardware features combine themselves to a suite of applications which simulate the instruments, not necessary anymore, helping the operator with an easy interface but centralizing data logging and supervision.
The programs, are specific and optimized to carry out their function, thanks to the high calculation power of a normal PC.
The possibility to unify remote control and PCL-like working, guarantees critical functions availability which, executed at hardware level, keep the reliability of standard PLCs in addition to the System features.
Treating Programs as Virtual instruments, the semplicity to edit or update the System becomes obvious in fact, from every program it is possible to edit the links to the field by simply selecting the input/output line desired with the pointer therefore modifying the logical behaviour of the system.
Standard boards permit a simple maintenance and also not qualified operators can work on them.
Hardware assemblage with Flat cables to connect I/O and signals conditioning boards reduce the starting costs and the maintenance costs. The connection between field electrical boxes and supervisor PC is made by a single Serial line using, as a mean of communication, a RS485 line and, in case of high disturb level, a optic fibre line.