Dosing pumps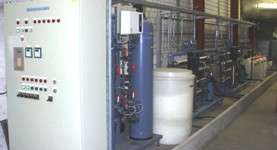 Most often, dosing is used for pH-adjustment of boiler water, cooling water, and district heating water as well as for protection against corrosion and precipitation. In connection with other water treatment, dosing pumps are typically used for admixture of disinfectants, flocculants, and scale inhibitors. Advantages The dosing pumps of the standard program are carefully selected with a view to offering complete water treatment solutions of high quality. Reliability of operation and precision are central parameters. Plant description In many cases, dosing forms a natural part of the complete water treatment plant. EUROWATER markets various types of dosing pumps to cover as many needs as possible. A complete dosing plant comprises dosing pump and tank for additive.

Grundfos serie DDA / DDC / DDE The DDA, DDC and DDE models set new standards at dosing rates of up to 30 l/h and 16 bar. The DDA model is the pump for complex and demanding applications where the focus is on maximum process reliability. The DDC impresses with features such as simple, intuitive click-wheel operation and a graphic LC display. The DDE is the cost-effective entry-level model with all the benefits of Digital Dosing.

Datasheet for dosing pumps DDA/DDC/DDE Download
Standard Products



Special Systems




Become a Distributor

We are distributing our products globally, and we are expanding our network of partners all the time.
If you are interested in finding out more about the Plimmer Cdi or if you are interested in becoming a distributor please contact us.