Pressure Filter plants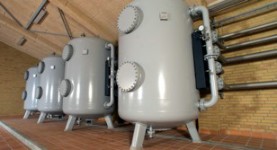 Pressure filter plants for removal of iron, manganese, ammonium, arsenic, etc. This type of plants is used for treatment of ground water and surface water typically for reduction of iron, manganese, ammonium, and aggressivity in waterworks, companies, and private households. Pressure filter plants can also be used for special fields of application such as dechlorination of water, reuse of process water, filtration of seawater, percolate filtration, final filtration of industrial or municipal waste water. The flexible system with many standard modules results in favourable prices and makes countless applications possible. The plants are uncomplicated and at the same time extremely efficient and reliable. The design makes installation and maintenance relatively easy. Flow rates of standard modules: Up to 100 m³/h per unit. The plants come with manual or automatic backwash. The tanks are made either of steel or stainless steel. Inside, the tanks are protected against corrosion according to job and likewise, the choice of filling is based on individual considerations.

Type NS/NSB Flow rate: Up to 12 m³/h per unit. Ideal for small and medium-sized drinking water supplies. Supplied as standard in a painted and a galvanized type. Equipped with distributor section. CE labelled.

Type TF/TFB Flow rate: Up to 100 m³/h per unit. Type TF/TFB has many capabilities and can be custom-made. Equipped with distributor section. CE labelled. Can be delivered custom-made – see more under Filtration plants.
Standard Products



Special Systems




Become a Distributor

We are distributing our products globally, and we are expanding our network of partners all the time.
If you are interested in finding out more about the Plimmer Cdi or if you are interested in becoming a distributor please contact us.